Vert Attack X / 31 mars – 2 april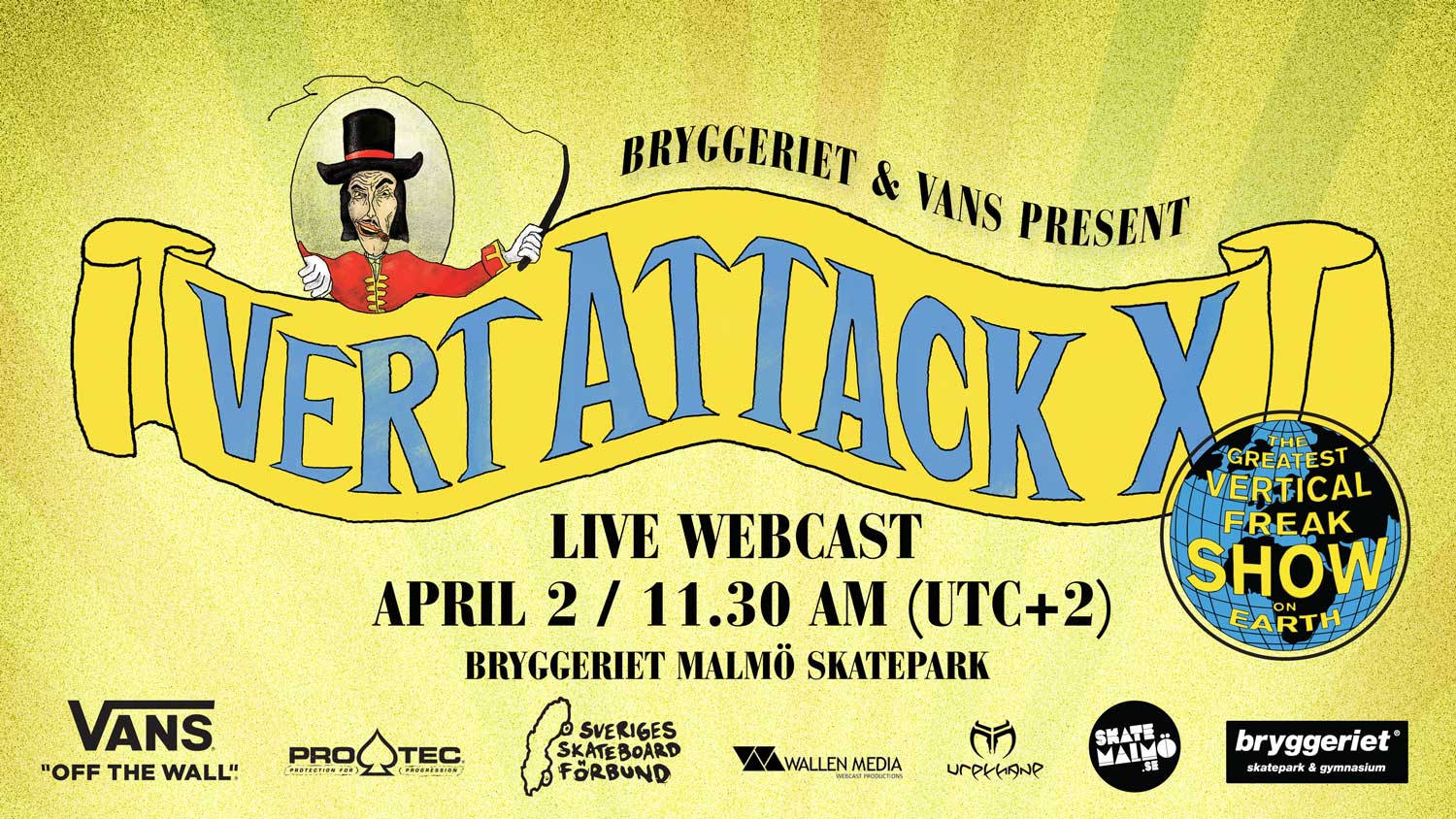 Kära vänner, då var det äntligen dags för Vert Attack igen. Den 31:e mars – 2:a april kör tävlingen igång men hela veckan blir dedikerad till detta monumentala evenemang. Det är en helt fantastisk skara skateboardåkare som kommer till Malmö för att åka i Bryggeriets vertramp och vi vågar lova en makalös upplevelse för alla skateboardintresserade.
Alla detaljer kring själva tävlingen finns att hitta på följande länk;
Live webcast schedule
Saturday 2nd of April
11.30 – 14.00 Pro/Am Semi finals
14.00 – 16.30 Master Semi finals
16.30 – 17.30 Junior Final
17.30 – 18.30 Girls Final
18.30 – 19.30 Masters Final
19.30 – 20.30 Pro/Am Final
20.30 – 21.00 Prize Ceremony
Vi finns också på instagram.com/bryggeriet_skate_org
och på Facebook.com/bryggerietskatepark
Kolla också under taggen #vertattack
ÖPPETTIDER
Söndag (Påskdagen) 27/3
18.00 – 22.00
Måndag (Annandag påsk) 28/3
14.00 – 22.00 (Öppet för alla, nybörjarskate och Tösabidarna inställt)
Tisdag 29/3
09.00 – 23.00
Onsdag 30/3
09.00 – 23.00
Torsdag 31/3
09.00 – 23.00
Fredag 1/4
09.00 – 23.00
Lördag 2/4
08.00 – 21.00
Söndag 3/4
STÄNGT
INTRÄDE
Mån 28/3 – Ons 30/3
Inträde precis som vanligt. Se priser här.
Tors 31/3 – Fre 1/4
Inträde precis som vanligt. (oavsett om du skatar eller inte) Se priser här.
Lördag 2/4
Medlemmar och övriga besökare (oavsett om du skatar eller inte)
120 kr
Medlemmar med bonuskort
0 – 14 år: 40 kr
15 år och uppåt: 60 kr
* Säsongskort och klippkort gäller inte denna speciella dag
Du kan betala med cash eller kort i både inträde och kafé.
KAFÉ
Vi kommer att ladda upp ordentligt i vårt kafé så att du slipper lämna Bryggeriet och då missa ditt finalåk eller se när Giorgio Zattoni sätter en switch McTwist.
Utöver det vanliga sortimentet kommer vi att erbjuda varm mat i form av två olika rätter, en veg och en kött (tors, fre och lör) samt ordentligt med mackor och annat du kan bli mätt på.
Vert Attack 10 year anniversary.
The idea behind Vert Attack was to create something unique for skateboard fanatics, especially vert lovers. We wanted to create an annual event where you could meet likeminded people and really enjoy a good vert session. Bryggeriet has always had a good vert ramp, a bit smaller with old school dimensions. A ramp that works for all kind of skaters.
When we started Vert Attack in 2006 vert skating only existed at the arenas and that's were we saw the opportunity to create something that was for everyone, where focus wasn't the prize money but more for the session and meeting of other skateboarders. At Vert Attack, everyone's invited and it's the people who make the trip and bring their passion to the comp that make it. Year after year they make Vert Attack what it is.
We have reached the tenth anniversary of Vert Attack. It's been an amazing journey and each year has topped the last one. Vert Attack has grown to become something we couldn't even dream about. We've had so many amazing skateboarders participating, legends like Tony Hawk, Steve Caballero and Christian Hosoi, women like Lizzie Armanto, Alana Smith and Julz Lynn, juniors like Evan Doherty, Tate Carew and Matty Carlisle and established and upcoming professionals like Sam Beckett, Jimmy Wilkins and Chris Russell. There's been too many to mention basically but there's still a few more riders on the wish list that we are hoping for this year.
Together with Vans we have set the stage for an amazing tenth anniversary, the greatest vertical freak show on earth, filled with entertainment in the form of live music, exhibitions, presentations and most important of all, the main attraction the Vert show.
Please join us in the celebration on the 31st of March – 2nd of April at Bryggeriet Malmö Skatepark and if you can't make it over you can follow the web cast on Saturday the 2nd of April for all the final action of the festivities.
Welcome!
More info at skatemalmo.se/events/vert-attack