Vert Attack 2017 / Day 2 results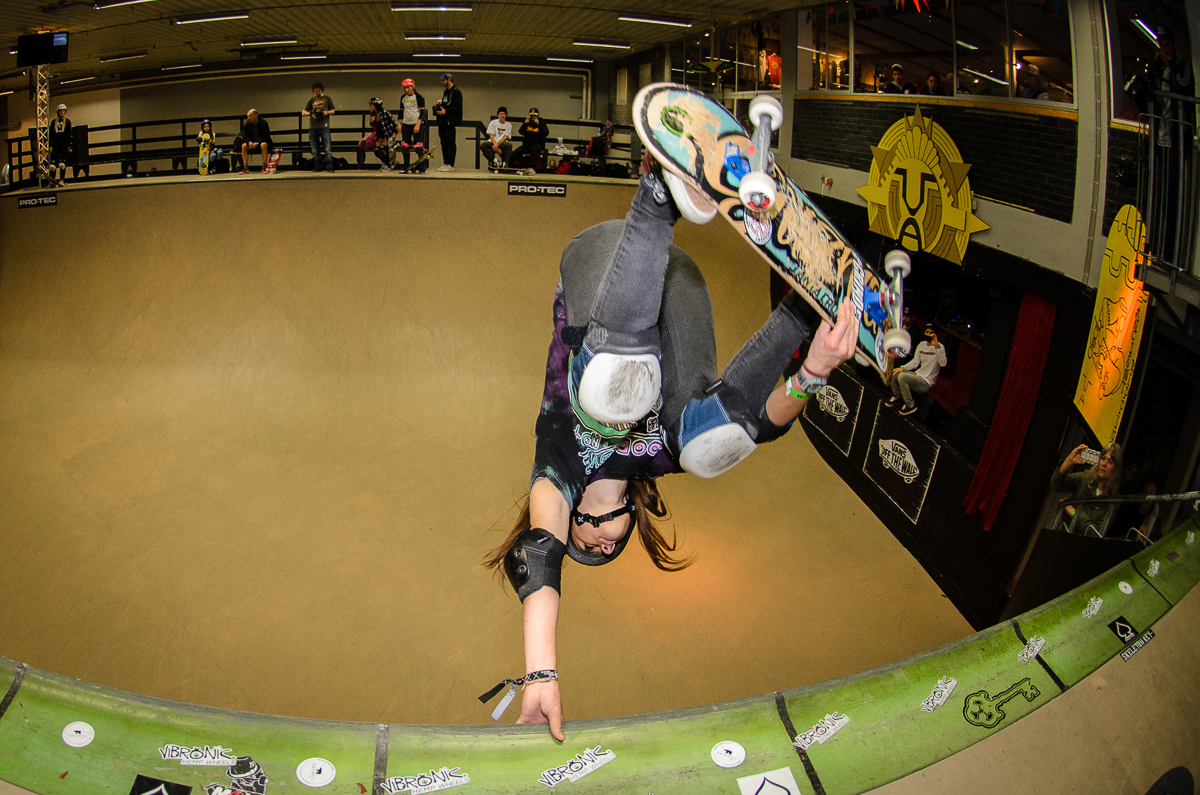 Arianna Carmona / Photo EKEN
Today was the skaters' day. Every heat seemed packed with skaters getting to land what they had hoped to land, walking off the ramp with smiles on their faces.
And then toward the end…
Well, people decided to start jumping off stuff and the rev-up got cranking. Someone got to land their balls-off-the-wall stunt, the medics got to make an appearance and overall, the charge lasted till the end and from there Grindline the Band took it even further.
Get on your media game and check it out!
Here's the results. See you tomorrow.
GIRLS RESULTS
THROUGH TO FINALS:
KISA "KISA" NAKAMURA
Nicole Hause
ARIANNA "ARI" CARMONA
ALLYSHA LE
SKY BROWN
AMELIA BRODKA
SARAH 'SARAHSHREDS' THOMPSON
REMAINING RESULTS:
SILVIA SERRET
VALERIA "BERTA-VALE" BERTACCINI
THAIS GAZARRA (?)
LILLY "LILLA" STOEPHASIUS
FRANZISKA STOLZ
TIEGAN NEWPORT
————————
JUNIOR QUALIFIER RESULTS:
THROUGH TO FINALS:
THROUGH TO PRO/AM AUGUSTO "SAPINHA" SANTOS
FINALISTS:
ALESSANDRO "ALE" MAZZARA
GAVIN "GAVO" BOTTGER
LUIGI CINI
TATE CAREW
EVAN DOHERTY
BRYSON FARRILL
CEDRIC PABLICH
REMAINING UP-AND-COMERS:
MARCEL "OLIVERAS" CAMA
GUILLAME KHURY
ALLEX GRIFFITHS
ETHAN DOODY
RIO 'RIIIIOOOOOOO' O'BYRNE
CHRISTIAN "WACHA" VARGOS
MARVIN HVIDSOE
CHRISTOFFER LACOUR
NICOLA 'NICO' VITALI
NOAH ALBREKTSSON
—————————
Division: PRO/AM Results
THROUGH TO SEMIFINALS:
AUGUSTO "SAPINHA" SANTOS
RONY GOMES
EDOUARD 'FRENCHI' DAMESTOY
PAUL LUC RONCHETTI
GABRIEL MACHADO
IAN LANDI
JAMES DEMARCUS
ALEX PERELSON
JIM LANGRAN
JEROMY GREEN
LEO RUIZ
PONTUS BJÖRN
MIKEE "ZION" O´FRIEL
SHEA "BUTTERS" DONAVAN
BUCKY LASEK
1ST STANDBY ITALO PENARRUBIA
2ND STANDBY ALEX HALFORD
3RD STANDBY AVBY TAYLOR
REMAINING RESULTS:
REISS JOHNSON
ANDREE BÖHLIN
FREDRIK HÖPFNER
KEVIN REYNOLDS
TREVOR "ATT" JOHNSON
Chris Wood
Griffin Clingman
JOHANNES THURN
BJØRN LILLESOE
ZACHARY LEWIS
ANDREA 'GUMMY' CASASANTA
AARON 'NORAA'
MARTINO "TINO" CATTANEO
ALAN RESENDE
JENS 'NEW TONY SKATE' ANDERSSON
IAN CAMPBELL
WILLIAM 'WILL' COYLEZ (?)
SIMON KARLSSON
ANDREW CASTRO
DEREK SCOTT
ICARO "ICACARO" NARISI
JORGE 'TITO' QUICANO
BENNY GREICHMAR
ROBERT "SK8WINE" AYTON
VITUS HENNINGSEN
SERGIO YELKIN
JONAS BÜNGER
MIKKO 'LIZARD' KYMÄLÄINEN
PIOTR MEERDRINK
MAGNUS "DÖDS MANGE" HANEÖJ
Brody Petula
BASTIAN RYTTER
JONAS REIJONEN
MIKAEL 'MIKSU' RENTRO
TEDDY NILSSON
JOHANN " POWERFIELD" BAWERFIELD
MIKKEL 'PIKKEL' SODBORG
ALEX 'VODKA' POPOV
CARLOS THÖRNBERG
JON HARALD 'JHA' ASPHEIM
OSWALD HARRYSSON
BRANDON LASTO
SONDRE ROBSRUD
LUDWIG "GRINDLINESWEDEN" LILJA
SAMMY ANDERSSON
JARNO 'JAPE' MUSIKKA
AUSTIN NOVY
PETER MÅRTENSSON