Vert Attack / Final results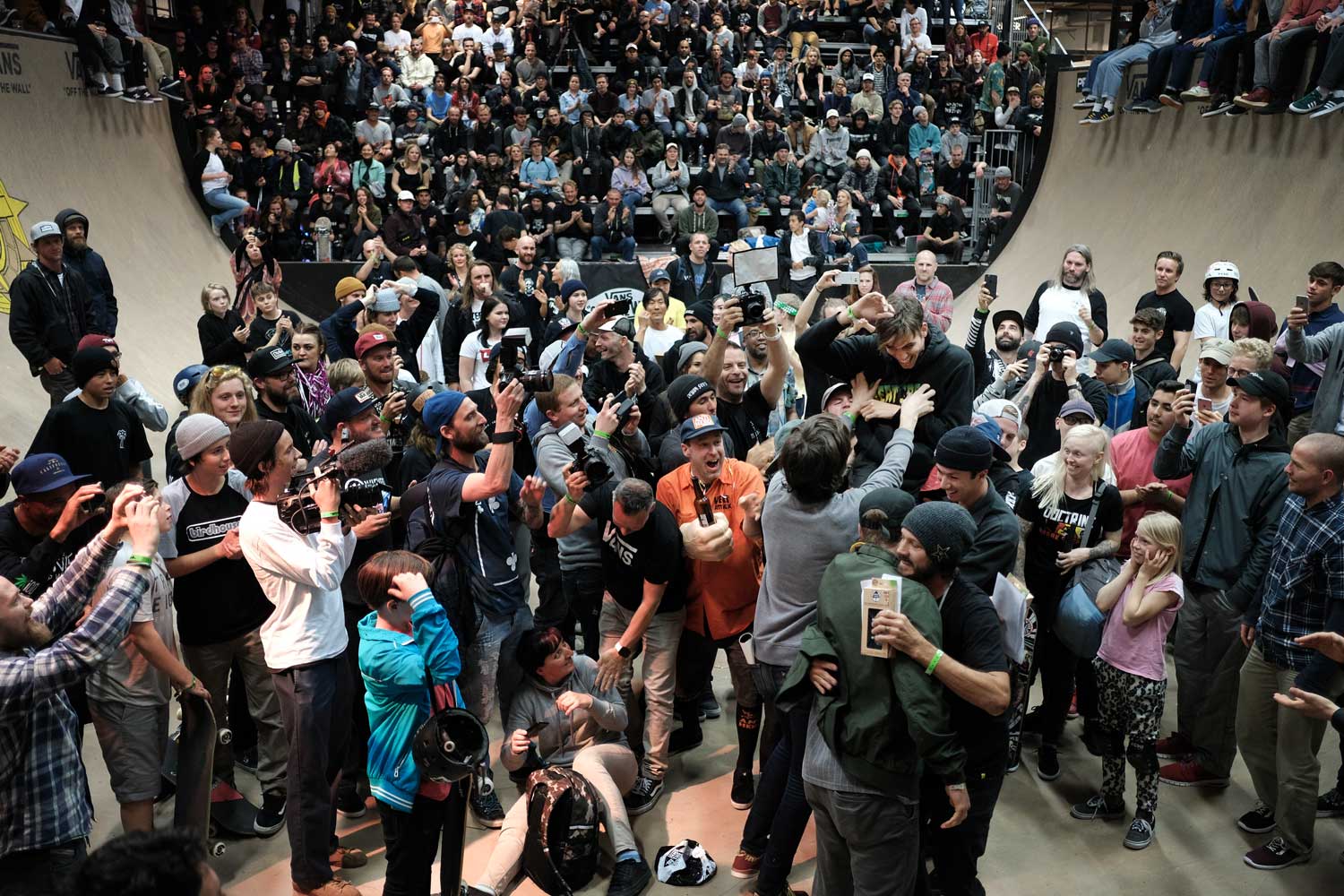 Photo / Nils Svensson
Text / Gustav Svanborg Edén
There it is,
Once again.
Ffej drops by with the verdict: 'Where do you go after you turn it up to ten? You crank it to eleven!'
Last year was the tenth anniversary of Vert Attack and potentially the end of it all.
Where do we take it from here?
Well.
Luckily, skaters keep getting better. Especially the masters. And the young ones seem to not have kid-style anymore. Paradigms changing.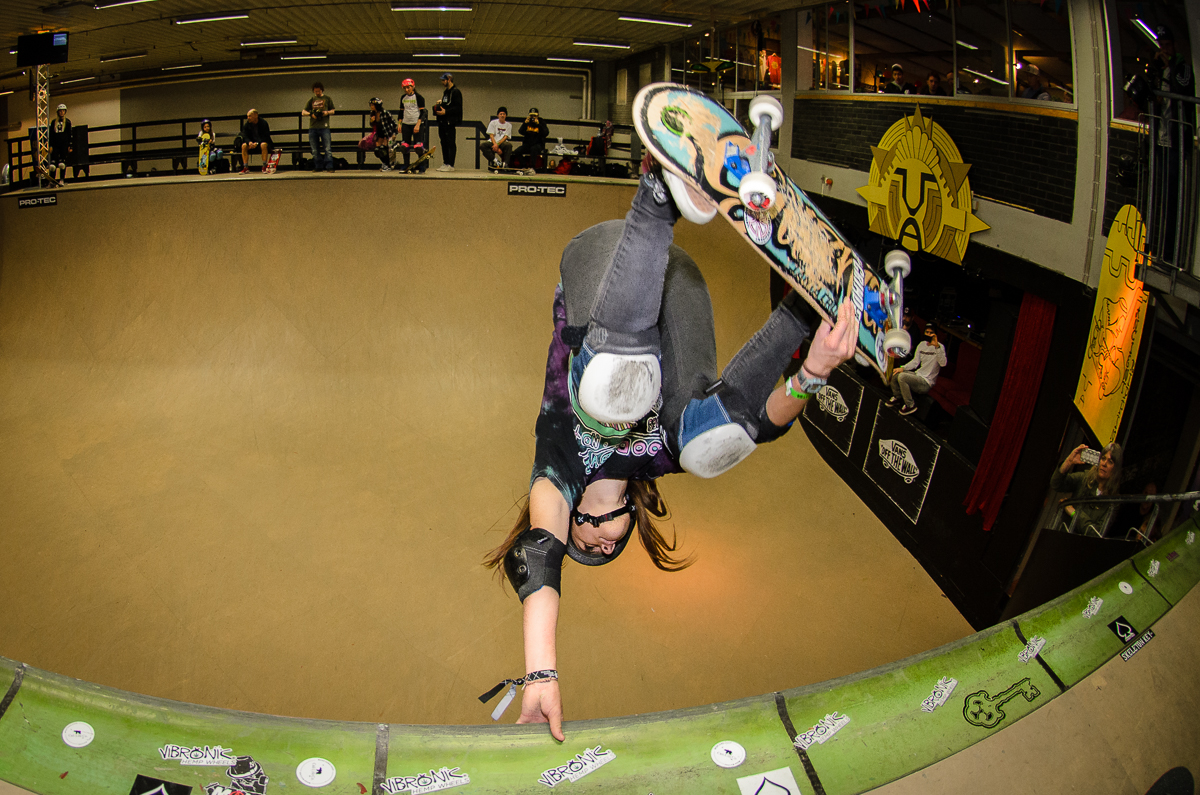 Arianna Carmona / Photo EKEN
But Vert Attack remains the onslaught of skateboarding gatherings in their purest form. Everyone there to do what they do and to help push everyone else to do the same. The clinical term is, apparently, 'stoke'.
There is only one place to go from that – on.
Not to just speak of the pro's but something has to be said for this year's Pro/Am final (18-40's).
The finals saw winners from the past five or so VA's doing just what they did to win and then some. Clay opened with his winning run from last year, Rony landed all his tricks at some point, Bucky held runs and then did that impossible one trick, Jimi had it all, got stuck on dream tricks and then came back, Sam Beckett meets the ramp vertically every time and chiseled away with constant barrage, making it hard to keep up, Jeromy Green had the run of his life every run, Paul- Luc never fell of, it seemed and Frenchi did that head-high rodeo. Finding two people in the audience that would have placed those eight in the same order may be a statistical challenge. All winners (queue: violins). Oh – and the Russians hacked the results anyway so who cares.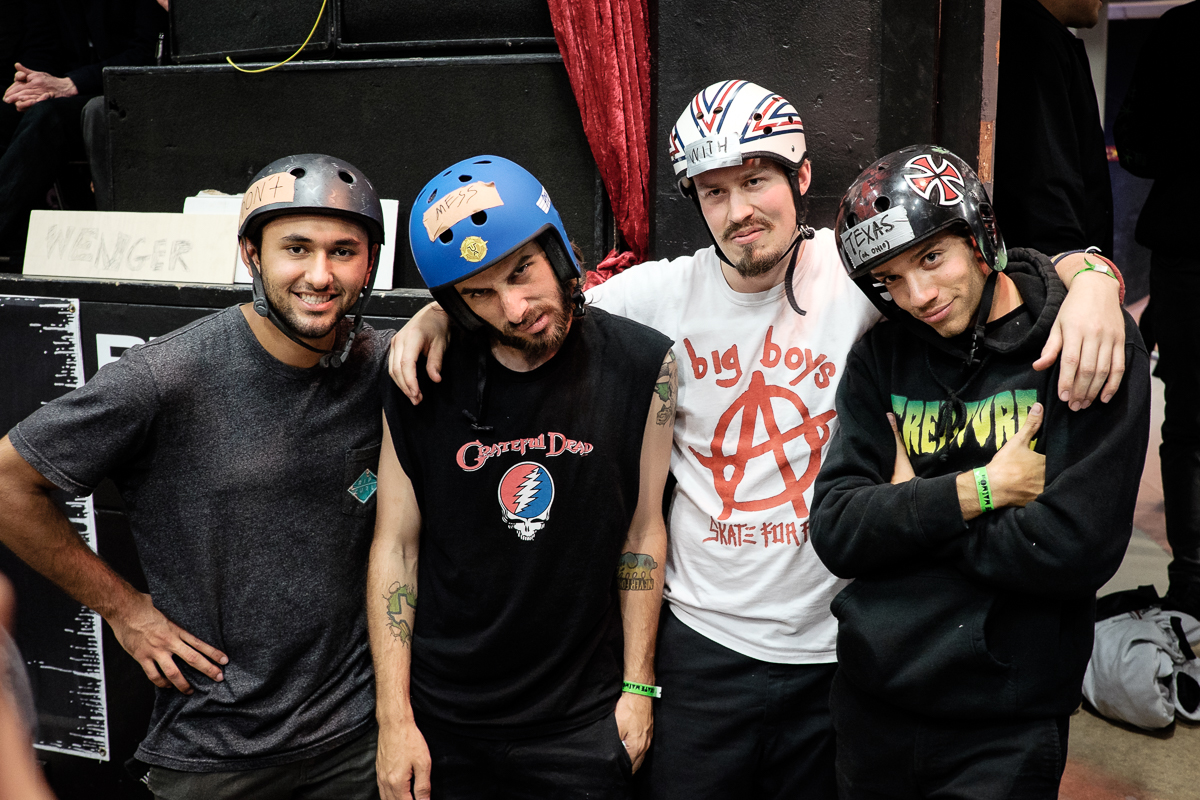 Photo EKEN
Fuck, right.
Prizes were handed out. No one got rich from the loot, but we do what we can. And some love got spread to non-heat winners.
Fuck – did Jed get anything? I wanted Jed to get something – he was the hype-man all weekend! Well – here it is, for what it's worth: Jed – hype champ – you smashed it!Come back!
VAXII 2018 is going to be incredibly on-trend and anyone who is anyone will be making it a calendar must-go priority.
Now go find a ticket to the afterparty at KB…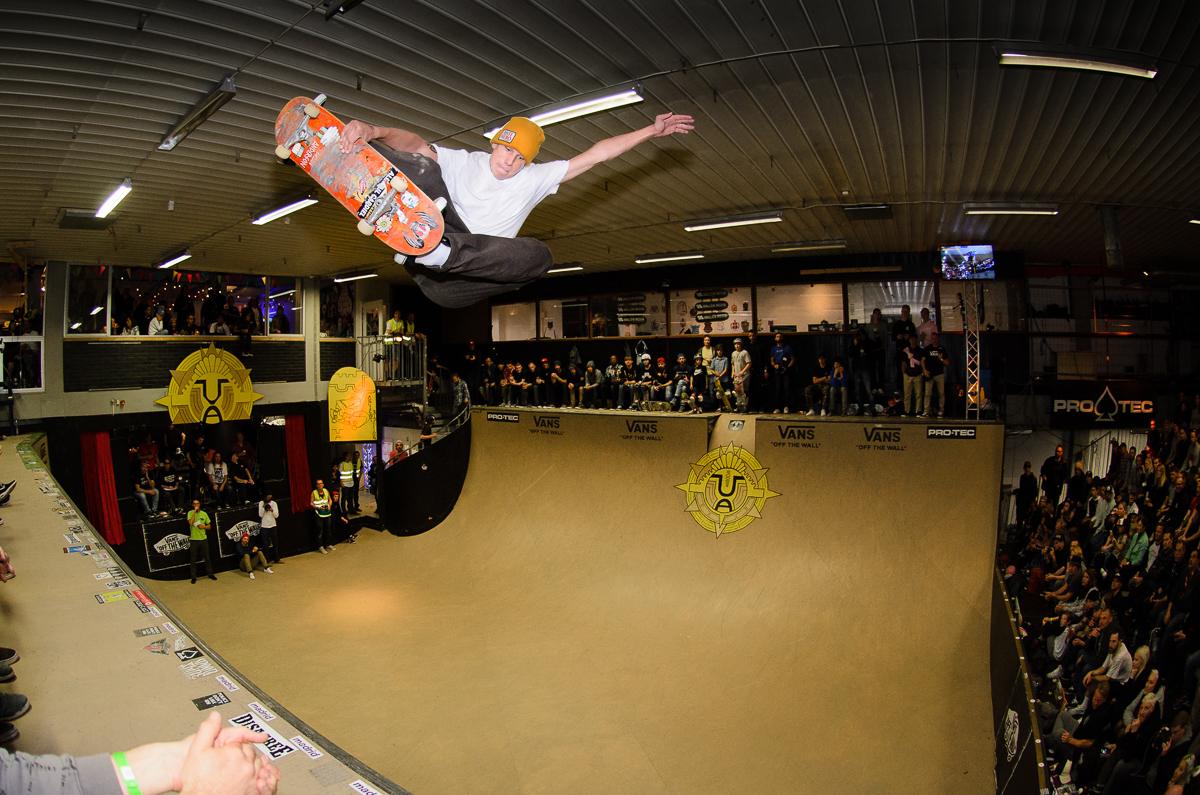 Cedric Pabich / Photo EKEN
JUNIORS FINAL RESULTS
1 TATE CAREW USA
2 ALESSANDRO "ALE" MAZZARA ITA
3 EVAN DOHERTY USA
4 LUIGI CINI BRA
5 GAVIN "GAVO" BOTTGER USA
6 CEDRIC PABLICH USA
7 BRYSON FARRILL USA
MASTERS FINAL RESULTS
1 JOCKE "AIRLINES" OLSSON SWE
2 JUSSI KORHONEN FIN
3 NEAL HENDRIX USA
4 ANDY SCOTT UK
5 NICKY GUERRERO DEN
6 THOMAS KRING DEN
7 JUERGEN HORRWARTH GER
8 MATT DOVE USA
REMAINING MASTERS RESULTS FROM QUALIFIERS
RICH 'THE BEAST' LOPEZ USA
DARREN NAVARETTE USA
MATHIAS SERNKLO SWE
DAVE "THE BABY RHINO" ALLEN UK
STEVE REVORD USA
CHRISTOPHER 'LINCOLN' HUDSON UK
EVANDRO "MANCHA" USA
THOMAS MADSEN DEN
JED "FRONSIDE TED" FULLER USA
BO WARBERG LARSEN DEN
VETERANS FINAL RESULTS
1 PAUL "JIM THE SKIN" ATKINS UK
2 JEFF "FFEJ" HEDGES USA
3 DOUG NELSON USA
4 PER NILSSON SWE
5 TORSTEN SCHUBERT
6 SCOTT HUSTON
GIRLS FINAL RESULTS
1 NICOLE HAUSE USA
2 KISA "KISA" NAKAMURA JAP
3 ALLYSHA LE USA
4 ARIANNA "ARI" CARMONA USA
5 SKY BROWN JAP
6 AMELIA BRODKA POL
7 SARAH 'SARAHSHREDS' THOMPSON USA
PRO/AM FINAL RESULTS
1 JIMMY WILKINS USA
2 BUCKY LASEK USA
3 PAUL LUC RONCHETTI UK
4 SAM BECKETT UK
5 CLAY KREINER USA
6 RONY GOMES BRA
7 JEROMY GREEN FRA
8 EDOUARD "FRENCHI" DAMESTOY FRA
REMAINING PRO/AM RESULTS FROM QUALIFIER
AUGUSTO "SAPINHA" SANTOS BRA
MIKEE "ZION" O´FRIEL US
PONTUS BJÖRN SWE
RUNE GLIFBERG DEN
EDGARD "VOVO" DOROIRA BRA
JESSIE THOMAS UK
GABRIEL MACHADO BRA
SHEA "BUTTERS" DONAVAN USA
IAN LANDI BRA
JIM LANGRAN UK
DEMARCUS JAMES US
ALEX PERELSON US
LEO RUIZ BRA
SPECIAL AWARDS
AUBY TAYLOR: PHILIPS 66 AWARD
DEMARCUS JAMES: TEARING IT AWARD
SCOTT HUSTON: SLAM AWARD
JEROMY GREEN: KNOCKOUT AWARD
ANDY SCOTT FLIP: EGGPLANT AWARD