Resultat Folkets Miniramp Jam 2017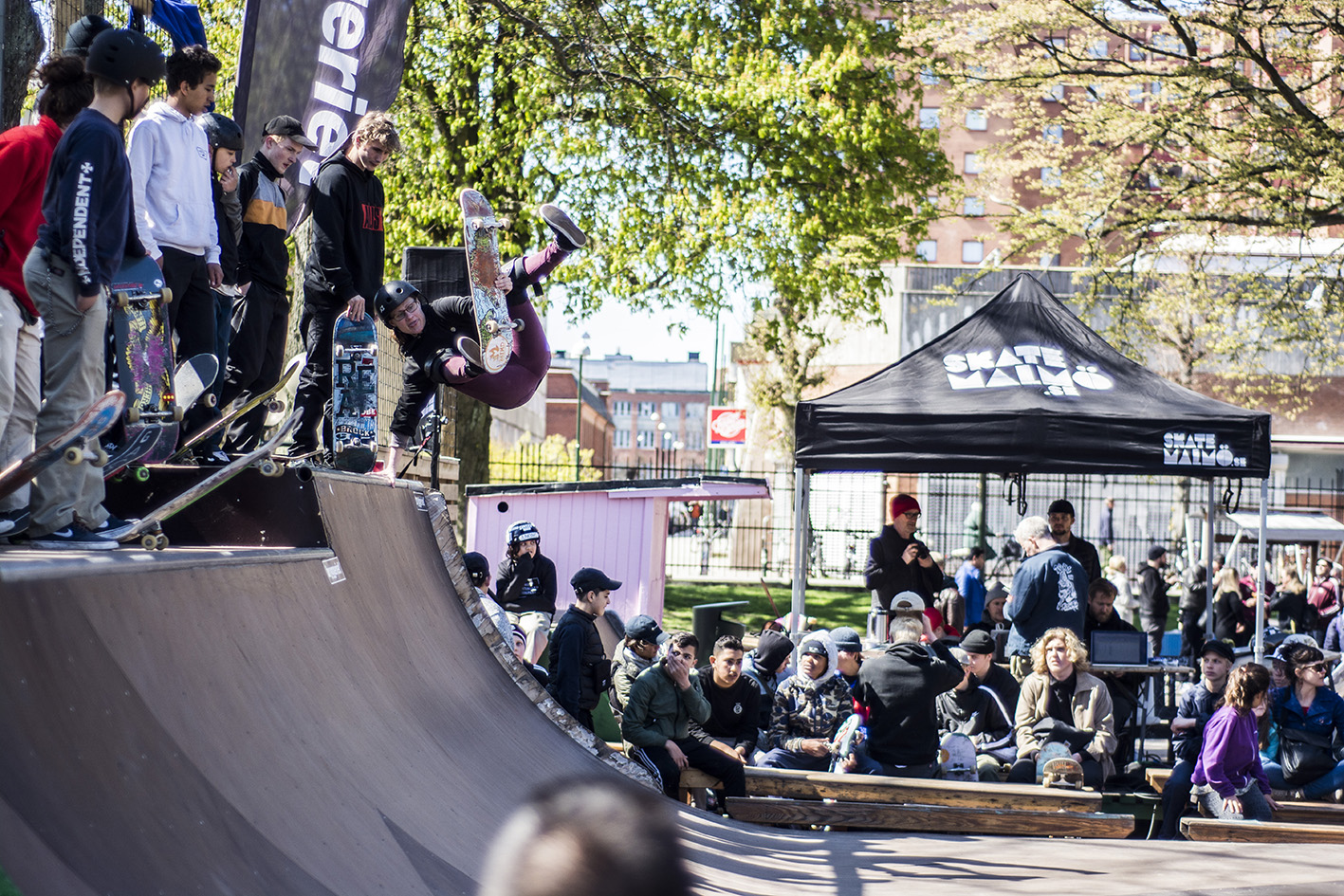 Words: Gustav Svanborg Edén / Skate Malmö
Foto: Ramin
SSpring has been a long time coming this year and the cold weather has seemed to never quite ease off.
The forecast for the scheduled Saturday jam looked ominous at best, and when the day came, there was nothing for it but postponing til Sunday. Mother nature seemed to want to clear out the spring account for rain, wind and general misery, before moving on. We caught the mess-end of the spring-clean.
Luckily, however, this meant a Sunday of clear skies and good vibes. From 9am, the ramp was alive, thanks to Katja and Jessica sweeping the grit and water off and kicking off the session. Gradually, the usual heads rolled in and the session got brewing. By ten or so, the new street-food market opened, adding to the atmosphere.
And by two we kicked off.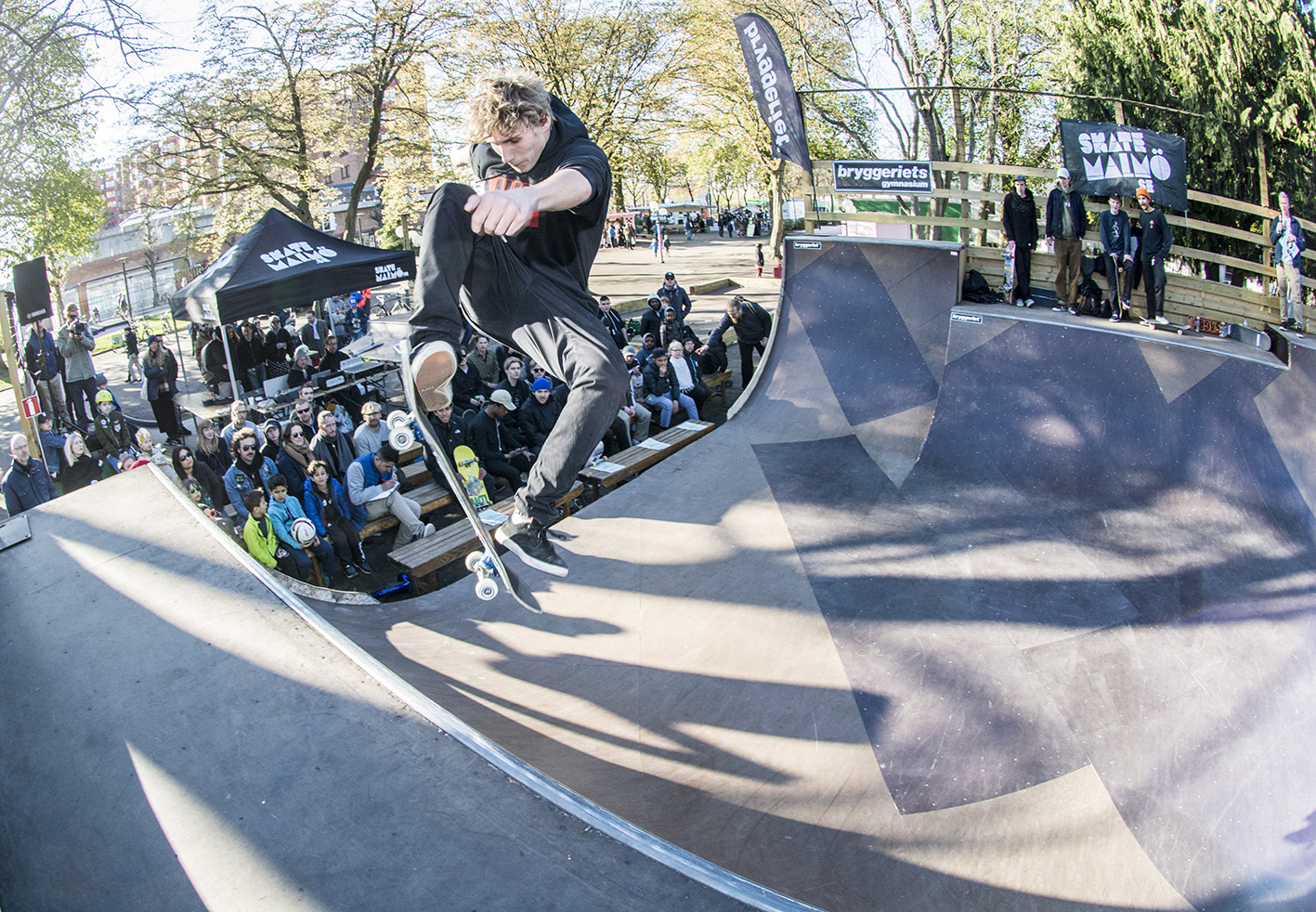 Juniors smashed it – The Danes came over in full effect, holding some real platform presence. Cruizer Neo Kaya from Malmö had some stylish runs, looking good, but in the end there was no knocking Rasmus Lützen's full barrage: Low-to-high transfers, spins, crails, noseblunts and general power. The Danes!
Girls was a hard one to call. Everyone had good runs and bad runs. Jessica had solid runs all day with long fs airs and standup grinds. The young heads Elsa and Mira really went for it and are adding tricks to their bag every session it seems. Katja had the biggest bag of tricks and put a lot of variety into the bag, but in the end the judges gave it to Mimmi Leckius who got it together toward the last runs. Power and commitment with long grinds and proper inverts.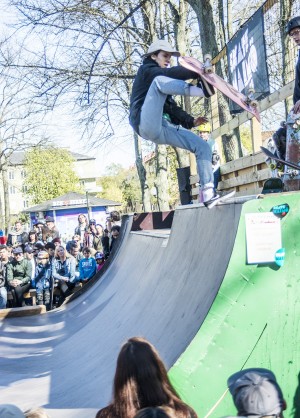 When it came to the seniors, it was good to see the energy brought in from people making the journey over. The Danes crossed the bridge for the second time to show the Swedes how to demolish a mini in various styles. Not joining the ranks of 'sleepy-style', Sloka has made it down every year from Göteborg and led the charge-squad as always. Sloka also landed the most free-fall blunt ever to grace the ramp. Trend-watch 2018: No-foots. Gabbe Viking has been good for a long time and it's good to see he's not slowing down both in terms of style and tricks. Flow and control champ of the weekend and how about fs 360 to rock, revert for a trick? Pink-hair space-twirl all up on that shit. Nice one, Gabbe! Søren Noe has been on a miniramp tearage for years, but never seemed to quite get his runs together in the comps. Not so this year and christ, the control on this guy. Nollie fs grabs boned, chest-high flips to fakie and sw backlips revert, all in smooth 90's homage style. You smashed it, Sören!
And then there is Dannie Carlsen. Jesus. It's a different game when half the tricks someone does are actually only done by that person. In the world. Or so it seems. Crazy pop-tricks from rock positions, every blunt-flip you can shake a stick at, big airs, long grinds and just a sheer tech-level that there's no debating. Danny's setup tricks are the tricks other people set up for. One of the best out there for sure. Hands down winner.
Prizes were handed out, cheers had and beers had somewhere. Thanks everyone for coming down!
See you next time!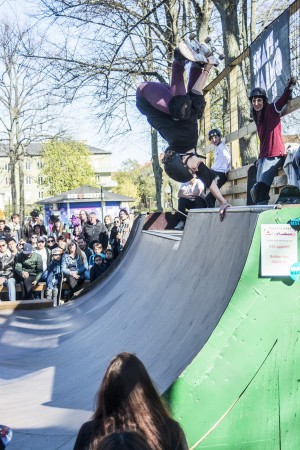 FOLKETS PARK MINIRAMP JAM RESULTS
JR
Rasmus Lützen
Neo Kaya
Elias Larsson Johansson
Girls:
Mimmi Leckius
KATJA UNEBORG
JESSICA JANSSON
SR
Dannie Carlsen
Sören Noe
Gabbe Viking
Best…
Abdullah Specialpris Hugo Magnusson
Stapelguns Vilmer
Chaaarge! Bastien Rytter
Thump!/Duns! Pierre Martinelle
Aaaand – Action! Best Show Linus james Nilsson
Grindline Commit Sloka! – Blunt-no-foot-fakie exstention.